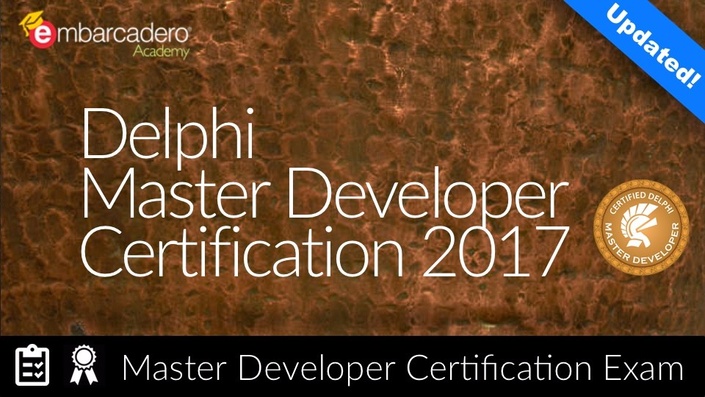 Delphi Master Developer Certification Exam - Retake
NOTE: This is an exam re-take and is only valid for students who have already taken the original exam
IMPORTANT: This is an exam re-take and is only available and valid for students who have already purchased and taken the Delphi Master Developer Certification Exam and did not pass with 80% or better the first time. When starting this retake you must use the same email address that was used to start the original Exam. If you have not already taken the original exam, you may purchase and enroll for it here https://www.embarcaderoacademy.com/p/delphi-certif...
---
The Delphi Certified Master Developer exam tests your advanced knowledge of Delphi programming concepts, software architecture choices, and the depth and breadth of Delphi XE's software development capabilities.
Delphi Master Developers are "a cut above" the rest and are adept in more advanced aspects of Delphi programming. The Master Developer exam is 60 minutes with 60 advanced Delphi programming questions in 13 categories randomly pulled from a large pool of advanced certification questions, so no two exams are the same.
In the Master Developer exam you will be tested on fundamental and advanced Delphi language syntax, programming techniques, using the IDE, building projects and groups, component use and development, and your experience in architecting and building desktop, client/server, Internet and multi-tier applications. Passing this exam test will identify you as an elite member of the global Delphi community. Developers who use the study guide and have at least four years of Delphi programming experience should be able to pass the exam.
The certification test covers the following areas of knowledge:

Delphi Configuration
Delphi VCL
Working with Components
Delphi Language and Object-Oriented Programming
Database Concepts/Data Access Techniques
dbExpress
DataSnap
Writing DLLs and Packages
Libraries and Packages
Windows Concepts
Component Design Basics
Internet Programming
XML
Step 1: Prepare for the Test
Your first step toward becoming certified is to prepare for the certification exam. To become certified, you generally need at least four years of experience using Delphi.
Study materials are available in the Delphi Certified Master Developer Exam Study Guide. The study guide reviews the topic areas of the certification test and provides links to online learning resources as well as a list of books on Delphi.
Another option is to contact an Embarcadero Certification Partner to learn about training courses that they may offer to help you prepare for the test.
Step 2: Choose a Certification Center or Request Online Exam
The Delphi Master Developer Certification exam is typically supervised at a certification center. You may choose from
a list of Certification Centers
to arrange for prep tutoring and testing or you may request an online test date from
[email protected]
if there is no certification center near you. The cost of the exam is $149 USD and it may be included as part of a bundled training and certification offering from a Certification Center. The Certification Center will provide you with specific instructions for that center. If you cannot locate a certification center or cannot get to a certification center, send your request for online only exam to
[email protected]
and we will schedule an online exam time at your convenience.
Step 3: Take the Test
You will take the test online or at the Certification Center on the agreed upon date. The Certification Center will need to validate your identity, so please make sure you bring along valid identification documents to your exam appointment. You can consult your Certification Center to determine what identification is acceptable.
Upon successfully completing the test, you will receive your score and if you pass the test you will receive a certificate of achievement and a certified developer logo that you can use to show the world that you're a Certified Delphi Master Developer.
The Master Developer exam is a difficult test, if you are not able to pass the exam with 80% or better score upon first take, we now offer discounted re-takes. We recommend additional study after your first take before starting a re-take. Re-take purchase information will be sent to you if you do not pass on the first attempt.
---
This certification may be used as part of an ongoing skills improvement program within a company. Achieving certification may help a developer move forward inside an organization or move into a new job. This certification can be used by a potential employer as one part of a hiring process.
Embarcadero and Embarcadero Academy does not certify or represent that the individual has the necessary skills or qualities for a particular project or a particular employer. Since the Delphi Certified Developer exam is taken un-proctored and online by the individual, Embarcadero cannot ensure that the individual taking the Delphi Certified Developer exam is in fact the actual individual named in the test certification.
Your Instructor

Course Curriculum
Preparing for your Exam
Available in days
days after you enroll
Certification Exam
Available in days
days after you enroll
Frequently Asked Questions
When do I take the Exam?
After enrollment you will receive an exam start code via email, after which you may take the test any time you wish. Once you start the test you will have 60 minutes to compete.
How many Questions are there?
The exam will consist of 11 sections with 60 questions randomly selected from the 11 subject pools.
How many times can I take the test?
Your certification start code is good for one 60 minute test session.